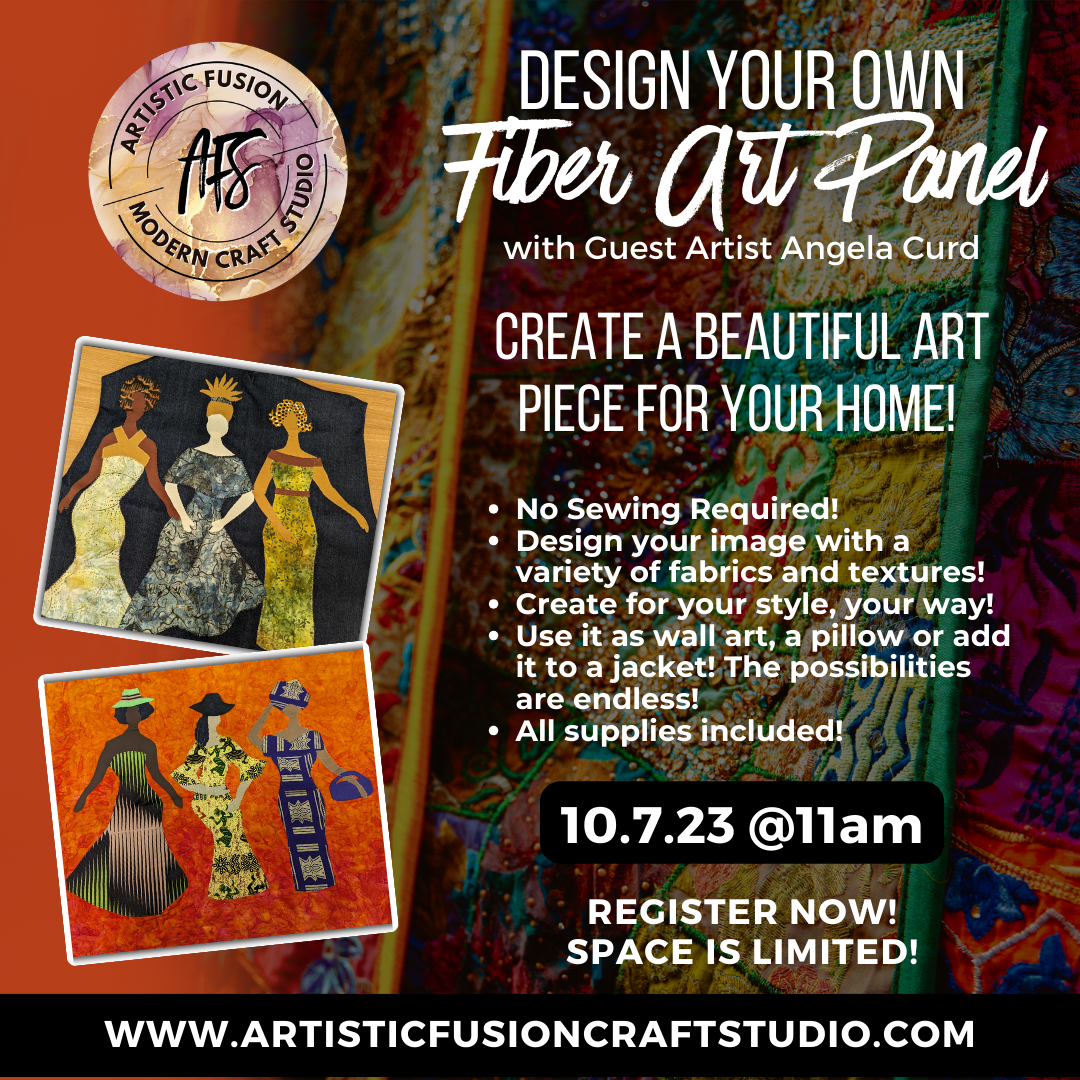 FIBER ART PANEL WORKSHOP
How cool would it be to make something beautiful out of scraps of fabric without having to sew?!
That is exactly what we will be doing in this workshop. You will be able to make beautiful fabric panels out of scraps of fabric and other cool. supplies. This piece can be made into a pillow, put on apparel or even hung as wall art. 
This is a fun experience that allows explore the world of fiber art. This class will provide all the necessary instruction, tools, and materials to craft your own fabric panel. You will be able to choose from a range of fabrics and supplies to create something that is just your style. 

Your instructor for this session is Andala Curd. She is an accomplished fiber artist that has taught many classes. You will be in great hands during this workshop!
So join us for a relaxing afternoon of positive vibes and a great atmosphere while you discover a new passion, connect with other amazing creatives and create an Insta-worthy masterpiece!
No prior experience is necessary, and all skill levels are welcome. Join us for a fun and relaxing session of creating that is sure to leave you feeling inspired and creatively fulfilled!
Don't have a sewing machine? No worries a sewing machine is not required if you're taking the class in studio, but if you are planning to bring a sewing machine, please ensure that your machine is clean, in good working condition, and has a manual. 
PLEASE MAKE SURE TO PUT IN THE CORRECT EMAIL AT CHECKOUT
This is where all correspondence will be sent. If you don't include the email address you will not get the information. No refunds or credits will be issued if you don't provide your correct email to receive the information.
************PLEASE READ**************
We reserve the right to use event photography (unless otherwise notified in advance). Please see our Model Release terms and conditions.
We cannot guarantee an allergy free environment, so please join at your own discretion.

You agree to observe all posted rules/warnings and any oral instructions or directions given by the instructor or Artistic Fusion staff during the class. You recognize there is a level of safety required when using the tools and supplies provided. You assume full responsibility for the use of these tools and supplies.
Please view How It Works/F.A.Q's for cancellation and late arrival terms and conditions.
Artistic Fusion and its partners, team members and associates are not responsible for damages or injuries that may arise on or off the premises as a result in your participation.
By purchasing this workshop, you understand and agree to all terms and conditions.
For private events contact us at hello@artisticfusioncraftstudio.com
Follow Us on Social! https://www.instagram.com/artisticfusioncraftstudio/