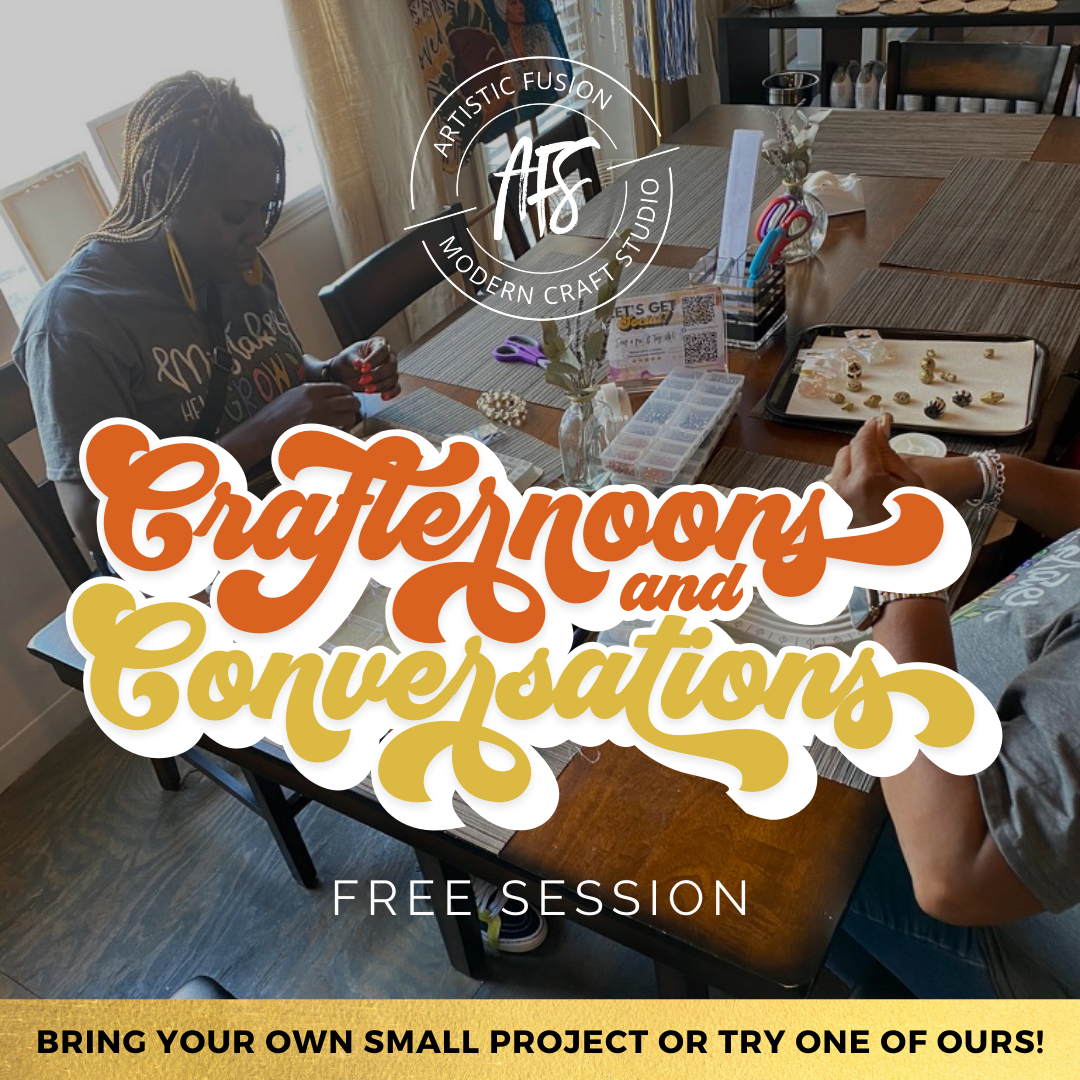 CRAFTERNOONS & CONVERSATIONS
Crafting isn't just a hobby—it's a gateway to inner peace and well-being. Take a moment to step out of the chaos of everyday life and tap into the zen-like vibes that crafting can bring to your mind, body, and soul. It's the ultimate way to find your inner calm.

Crafternoons and Conversations is more than just a craft session. It's a chance to connect with makers who share your love for all things handmade. Imagine engaging in soulful conversations, exchanging ideas, and uncovering new creative possibilities together. As you mingle with fellow crafters, you'll feel a sense of belonging and inspiration that encourages you to keep pushing to your next level.
Whether you're a seasoned crafter or just starting out, Crafternoons and Conversations at Artistic Fusion is the ideal way to tap into your creativity, soak up some good vibes and build meaningful connections. Bring your small project or choose something in the studio to work on (additional fees apply for our projects, supplies and equipment usage). Either way, we'll have a fun afternoon of craft-filled joy, positive vibes and great conversation.
************PLEASE READ**************
We reserve the right to use event photography (unless otherwise notified in advance). Please see our Model Release terms and conditions.
We cannot guarantee an allergy free environment, so please join at your own discretion.

You agree to observe all posted rules/warnings and any oral instructions or directions given by the collective during the class. You recognize there is a level of safety required when using the tools and supplies provided. You assume full responsibility for the use of these tools and supplies.
Please view How It Works/F.A.Q's for cancellation and late arrival terms and conditions.
Artistic Fusion and its partners, team members and associates are not responsible for damages or injuries that may arise on or off the premises as a result in your participation.
By purchasing this workshop, you understand and agree to all terms and conditions.
For private events contact us at hello@artisticfusioncraftstudio.com
Follow Us on Social! https://www.instagram.com/artisticfusioncraftstudio/