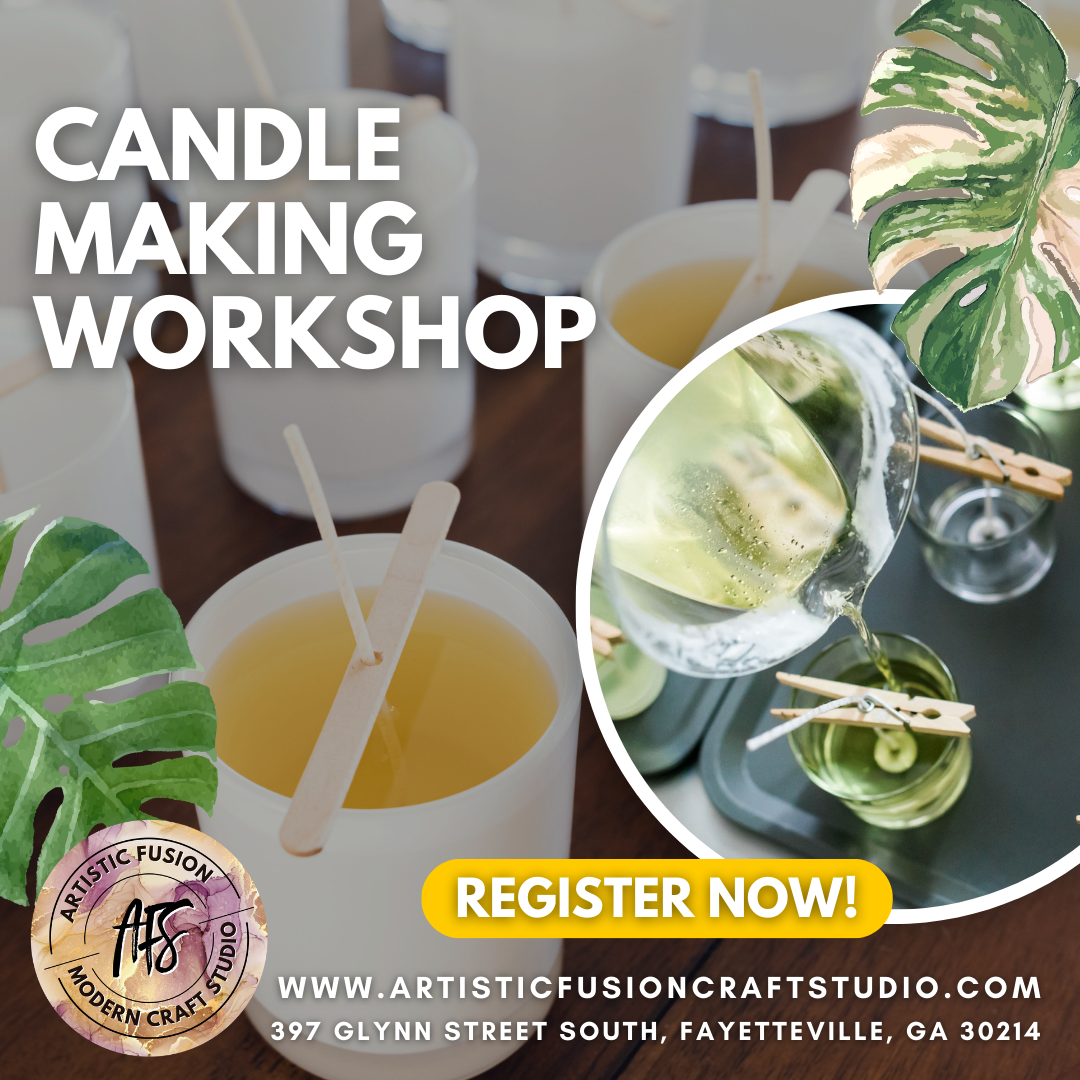 CANDLE MAKING WORKSHOP - October 8th, 2023 @2pm
Welcome to our DIY candle making workshop! You'll get to indulge in some serious self-care and creativity! This event is perfect for mothers and daughters, girlfriends, or even if you just want to spend some quality time with yourself.
At our workshop, you'll have the chance to pick or create your own fragrance to make a custom candle that will fill your home with the comforting and relaxing aroma that you created. You will be making 
Upgrade your experience by creating your own art while you wait for your candle to harden. You will have a great time unleashing your creativity!
We believe that creativity is an incredibly powerful tool for self-care and relaxation, and we want you to experience it firsthand. This experience is about showing yourself love and grace, and finding peace and inner strength by using products that you create yourself.
So come join us for a truly empowering and uplifting experience, where you'll create beautiful products, cultivate inner peace and strength, and show yourself the love and care that you deserve. All supplies are included, and positive vibes are guaranteed!
************PLEASE READ**************
We reserve the right to use event photography (unless otherwise notified in advance). We cannot guarantee an allergy free environment, so please join at your own discretion and share any restrictions in advance of class attendance.

You agree to observe all posted rules/warnings and any oral instructions or directions given by the collective during the class. You recognize there is a level of safety required when using our tools and provided supplies or partaking in any refreshments. You assume full responsibility for the use of these supplies. 
Late Arrivals/Refunds:
There are no refunds. Please make sure to check your schedule and plan accordingly.
Please arrive on time. There is time alotted for you to get settled. Once class starts, if you are more than ten(10) minutes late, out of respect for our guests, we will not stop class to set up late comers.
Late guests will be offered a one time opportunity to reschedule your class. There is a $25 fee due at the time of the reschedule.
No-Show/No-Call guests will forfeit the class fee and will have reschedule at the current price of the workshop.
There are no refunds or credits for late or no-show guests. No exceptions.
Artistic Fusion and its partners, team members and associates are not responsible for damages or injuries that may arise on or off the premises as a result in your participation.
By purchasing this workshop, you understand and agree to all terms and conditions.
Our workshops are great for all occasions!
Date nights
Bridal Showers
Baby Showers
Girls night out / Friends night out
Corporate Events
Team building
A Me, Myself and I night spent connecting to your creativity
For private events contact us at hello@artisticfusioncraftstudio.com
Follow Us on Social! https://www.instagram.com/artisticfusioncraftstudio/