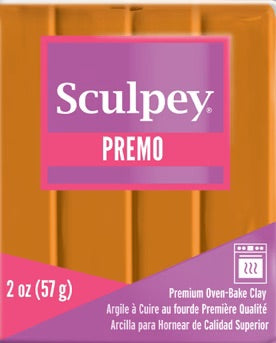 Premo Sculpey - BURNT ORANGE
Premo Sculpey® Burnt Orange 2 oz bar PE02 5012
Premo Sculpey® is an artist's dream come true! After conditioning, this clay is soft enough to blend easily but firm enough to hold fine detail and for specialized techniques.
It's perfect for caning, and mica shift. Because it retains flexibility, the finished product remains very strong and durable.
►SHIPPING

Please note that we may print your packing slip and shipping label before we send it out to help keep us organized. However, it may take a day or two to see your package move on the tracking system. Please be patient while we prepare your package for shipment.  Once the order leaves our possession, we cannot be held responsible for shipping times.

►OTHER DETAILS

ALL SALES ARE FINAL. Please ask questions PRIOR to purchasing.

DISCLOSURE - Please note, while we try our absolute best to capture the truest colors of our wire, slight variations may occur due to different screen resolutions. It is the customer's responsibility to use product responsibility.

COPYRIGHT 2023 ©The NiKai Group, LLC