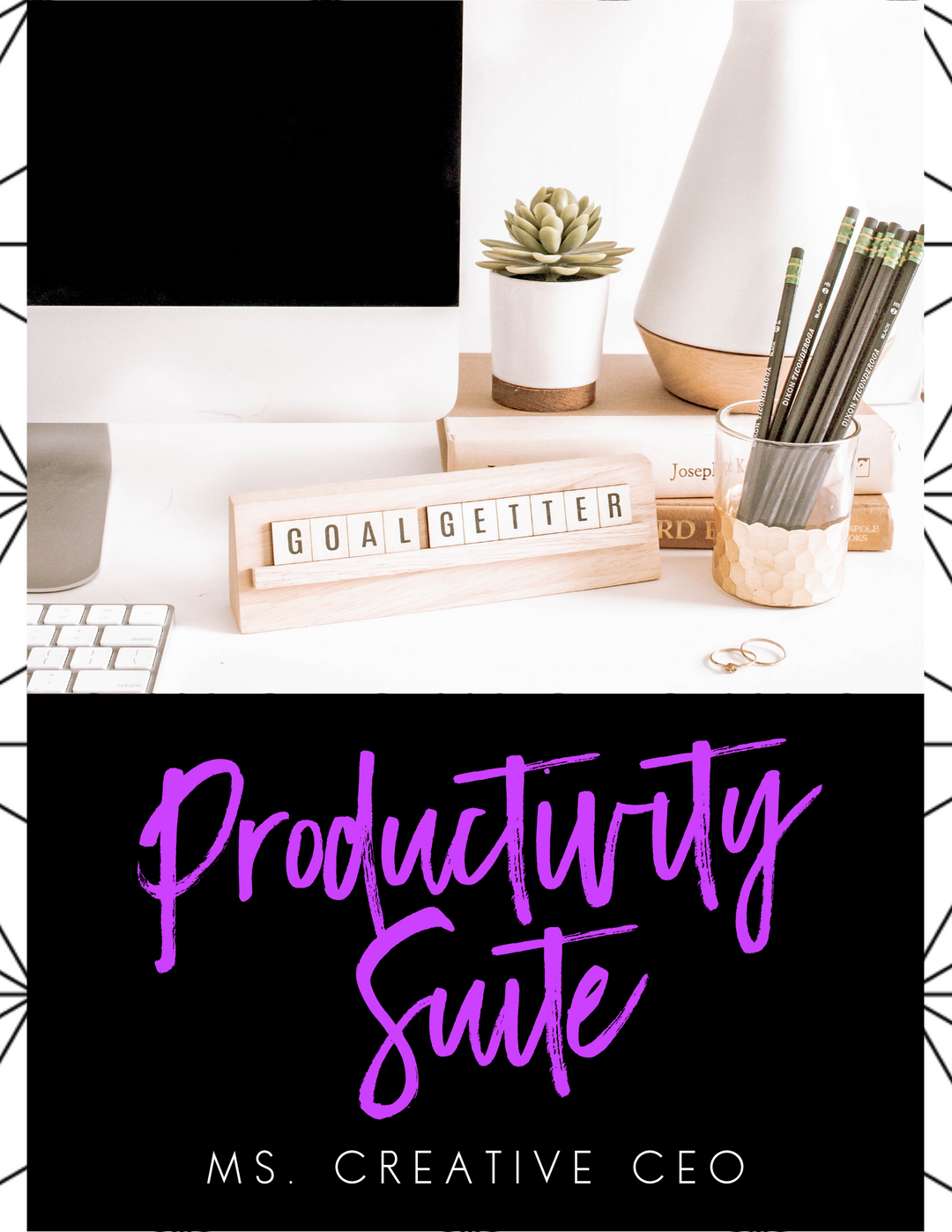 Ms. Creative CEO Productivity Suite
Being a creator and doing business on social media can get overwhelming. With so many ways to connect and take payments, sometimes things can fall through the cracks. 
The Ms. Creative CEO Productivity Suite particularly addresses the issues that creative entrepreneurs have with doing business on the internet. It is packed with valuable forms and worksheets that will help you get your productivity life in order! It comes with the following fabulous forms:
Project Planner - Idea, Plan, Execute! A detailed worksheet that help you bring your ideas to life. Don't leave your success to chance.
The Ultimate Order Form - Literally every piece of info you need to stay on top of your game.
Monthly Calendar Overview - Plan your month and see it all in one place.
Shipping Calendar  - Know when items need to ship at a glance.
Get It Done! - Use it as a daily, weekly or monthly list to help you stay focused.
Follow Up & Secure the Bag Form - How many times has someone asked for info in your DM's or inbox and you never followed up? That's missed money!
What's in the Bag? - Keep and eye on you income and expenses.
New Item Breakdown Worksheet - Keep all the info about your new creation in one place. Record the supplies and even dimensions so you wont forget.
Vendor List Worksheet - Tired of trying to remember where you got what? No need to worry anymore. 
Don't keep spending time trying to connect the dots and let orders & money slip through the cracks. Stay on top of your game because how you start is how you finish.  

Grab your copy now! 
© 2019 The NiKai Group, LLC All rights reserved. No portion of this book may be reproduced in any form in any way other than its intended PERSONAL use, without express written permission from the publisher, For permissions contact: hello@nikaidesigns.com 

No refunds or exchanges available.