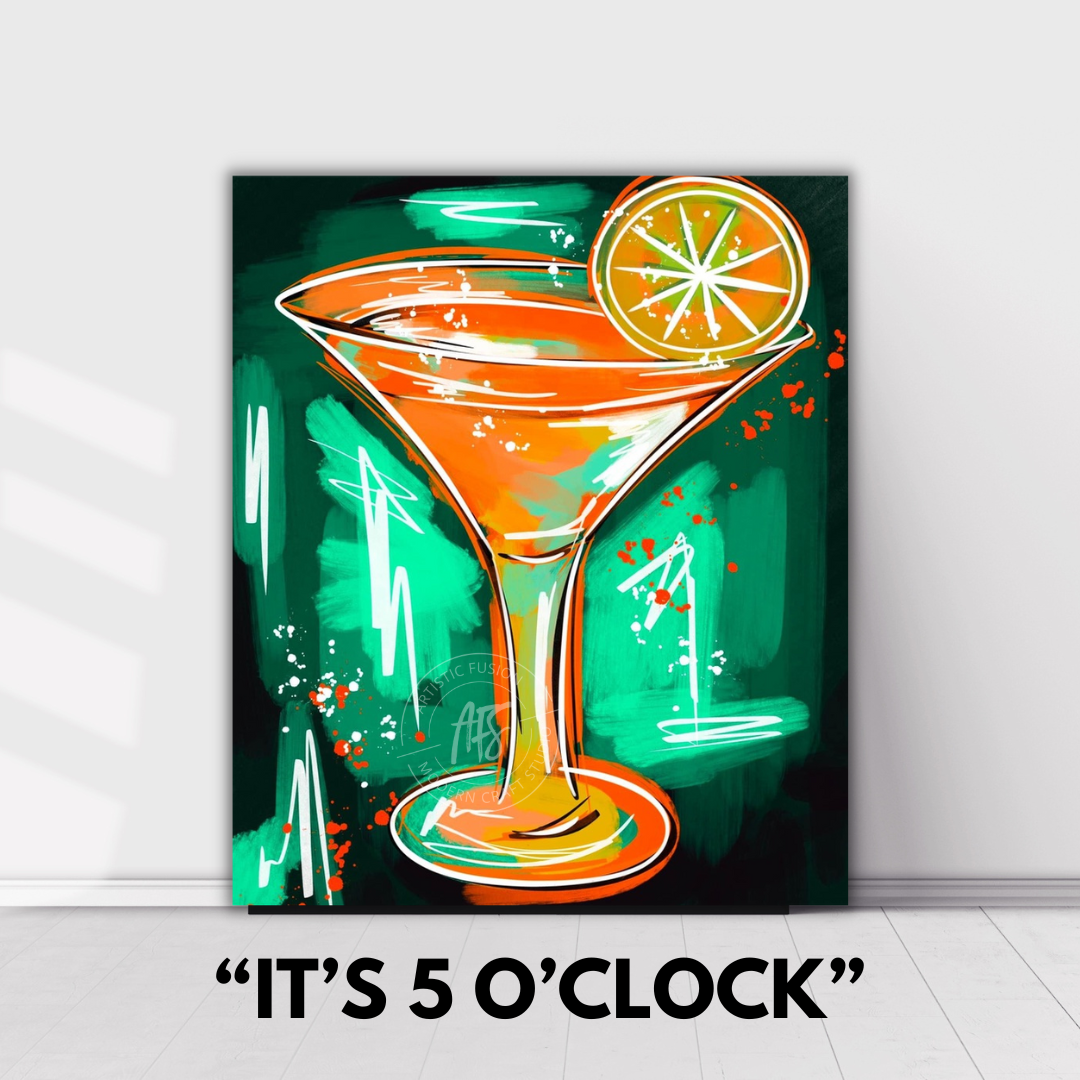 GRAB N' GO CANVAS PAINT KIT - It's 5 o'clock
Get ready to unleash your inner Picasso!  All supplies are included and it takes about 60-90 minutes to complete your masterpiece. 
Pick up or have it shipped. Want to paint in our studio? Click below to schedule your session..
https://artisticfusioncraftstudio.com/collections/canvas-paint-sessions
Painting is not only a fun activity, but it also has a plethora of mental benefits. It's been shown to reduce stress and anxiety, improve focus and concentration, and increase self-esteem and self-expression. So not only will you create something beautiful, but you'll also be doing wonders for your mental health.
INCLUDED IN EACH KIT (90 minutes or less to complete)
1 Pre-drawn Canvas (Select your preferred size)
Paint Brush
Disposable Apron (to keep your clothes clean)
Instructions 
Reference Image
Mixing Chart
Please Note: Canvas Only Option just comes with a pre-drawn canvas. (No other kit items are included)
WHAT YOU'LL NEED 
Cup of water (for paint brushes)
Paper Plate (for mixing colors)
Napkin (to wipe your brushes off)
Wine!
Food!
Music!
All orders ship within 2-4 business days, unless otherwise noted.

Having a party and want to make a bulk order? Email us at hello@artisiticfusioncraftstudio.com
************PLEASE READ**************
We reserve the right to use event photography (unless otherwise notified in advance). Please see our Model Release terms and conditions.
Artistic Fusion and its partners, team members and associates are not responsible for damages or injuries that may arise on or off the premises as a result in your participation.
By purchasing this listing, you understand and agree to all terms and conditions.
For private events contact us at hello@artisticfusioncraftstudio.com
Follow Us on Social! https://www.instagram.com/artisticfusioncraftstudio/