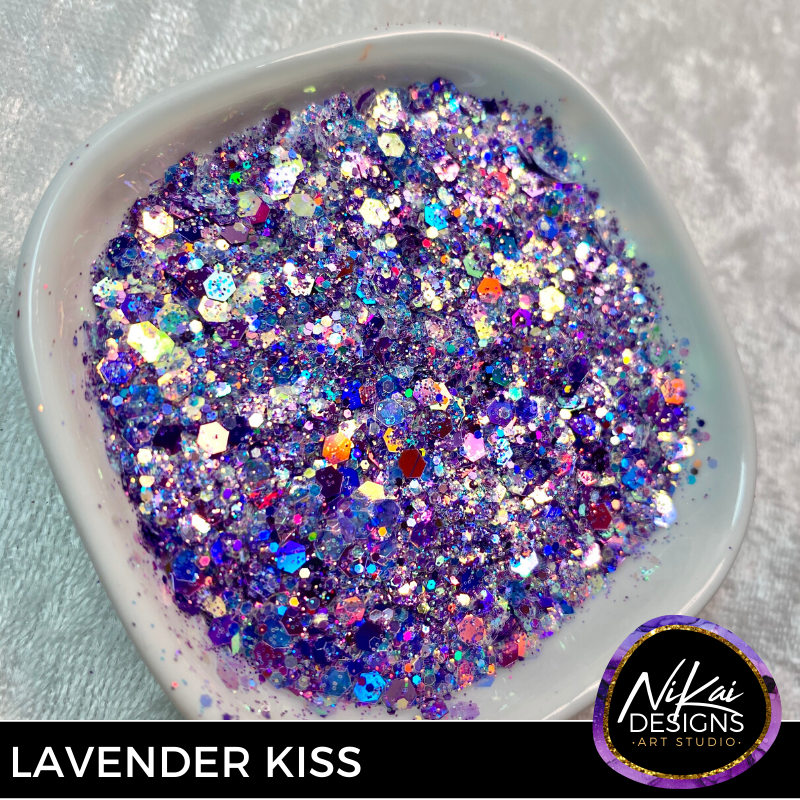 LAVENDER KISSES - NiKai Designs Art Studio Glitter
Lavender Kisses is a beautiful purple/lavender, fine and chunky mixed glitter.  It has bits of iridescent chunks that add depth and add to its high sparkle factor.
It is a polyester glitter that is works in a wide range of products and crafts like, paint, tumblers, molds and resin to name a few.
The possibilities are endless with synthetic glitter,  Make something amazing!
Sold in 1 oz. resealable bags.
-----------
►SHIPPING

Please note that we may print your packing slip and shipping label before we actually send it out to help keep us organized. However, it may take a day or two to actually see your package move on the tracking system. Please be patient while we prepare your package for shipment.  Once the order leaves our possession we cannot be held responsible for shipping times.

►OTHER DETAILS

ALL SALES ARE FINAL. Please ask questions PRIOR to purchasing.
Colors vary by monitor and we cannot be responsible for monitor resolution.
Feel free to contact me about special sizes, fabric and/or quantities.
Listing for mask ONLY.  Thanks for shopping with and supporting small businesses!

COPYRIGHT 2020 ©The NiKai Group, LLC
Trademark and copyright infringement is reported.
My images, descriptions, designs or anything else created by NiKai Designs are not allowed to be used with out my express written permission.